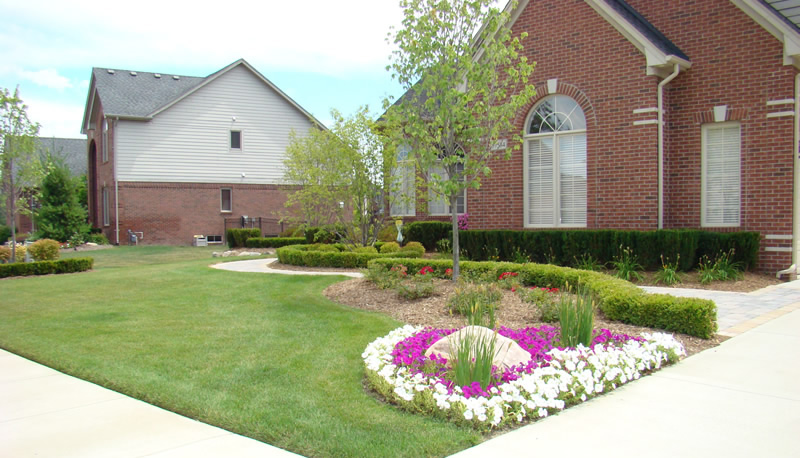 The start of 2017 is a time for new beginnings. Do you want to improve your lifestyle? A good place to start is with your home. You may have a long list of things you want to work on, but improving your experience at home will have the most impact. And one way to achieve this is to hire a Washington Twp landscaper to take care of your landscaping and hardscape needs.
Because life can become a whirlwind of responsibilities, hiring a professional landscaping company can take the weight of updating and making sure your property keeps its value off your shoulders. Here are a few projects they can help you with so you can stay on track with your New Year's resolutions for improving your home.
1. Boost the Health of Your Landscaping
Investing in proper landscape maintenance won't just boost the health of your lawn, trees, shrubs, and other plant life; it will also keep your plants in shape by uprooting weeds, removing dead plants, trimming off dead branches, and much more.
Landscape maintenance is all about preserving the health and beauty of your outdoor area. With professional help on your side, it can be a stress-free experience.
2. Look Into New Landscaping Designs and Installations
Want to try something new with your landscape design? Some homeowners keep on searching for ideas while others have some great ideas in their heads, but aren't sure how to put them on paper. If you're the latter, set up a meeting with a local landscaping company in your area.
Landscapers are like the architects for your flowers, shrubs, and other plants. They know what should go where and how it will appeal to the eye. Their expert advice will enhance your landscaping and turn it into a real sight to see.
If you want certain landscape features removed, you can ask them to take care of that for you as well. Whether you want extravagance or simplicity, ask a professional landscaper to do the work for you. They will do it right the first time, promising your dollars are spent efficiently.
3. Check Out Brick Paved Hardscapes for Your Home
Perhaps you're content with your landscaping. How about your outdoor living spaces? You can also update your patio into something more appealing. For example, wooden patios may not last as long as concrete, but they generally look more appealing.
You can get the best of both worlds when you ask your professional landscaping company about brick-paved patios. Have one installed with an intricate design and beautiful colors, and enjoy an incredible amount of durability.
Hire a Washington Twp Landscaper
Do you see how hiring a Washington Twp landscaper can make your 2017 a year of improvement? Contact SiteScape Inc., today for their landscaping services. They work with residents in Macomb and Oakland County.
Call Today: 586-739-5044
Are you looking for snow removal in the Sterling Heights area? Be sure to read our article: Sterling Heights Snow Removal for Your Commercial Property