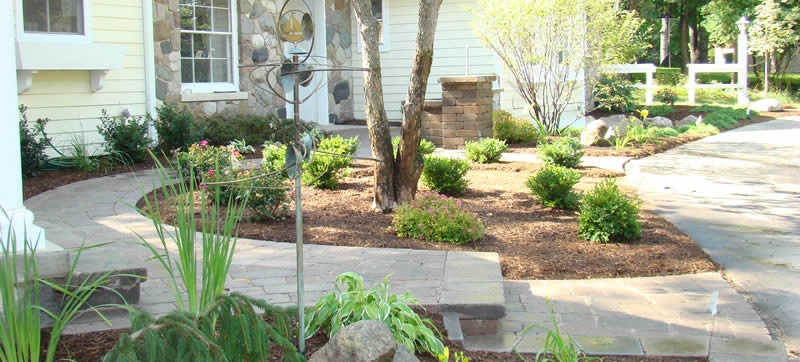 Enhance Your Home's Curb Appeal With these Landscaping Features
The curb appeal of your home does not just refer to the siding or color of your home, or whether you have a front porch, it also comes from the landscaping and hardscaping you have invested in. Whether you plan to stay in your home or sell it, boosting the curb appeal is an important component to consider when you want a nice return on your investment.
If you are planning to move houses, it is important to first complete any minimal improvements to provide potential buyers with a great first impression and to entice them to consider making an offer. Although, it is also important to consider the not-so typical improvements, including the landscaping. Some of these options include:
Planting Packages. Achieving curb appeal for all of the four seasons starts with choosing the right plant selection to make the most out of your yard and to create an eye-catching display. This may mean window flower boxes in the spring and summer, along with carefully placed flower beds amongst the yard, with the inclusion of fresh greenery with ferns, shrubs, and trees. But don't forget fall and winter, because there are certain flowers that love the cooler temperatures, and winter ferns and spruce will give your home a lovely, festive aesthetic in the colder months.
Hardscaping Features. Hard elements like patios, walkways, fire pits, retaining walls, and decks have many practical benefits in addition to their curb-appeal boosting qualities. They can make your outdoor space much more functional, and more inviting to spend time outdoors, whether for entertaining, or just for more opportunities to have fun with family and friends. Hardscaping also reduces the amount of green space, which if you don't particularly love to mow the lawn, can be very helpful because it reduces the amount of work you need to do for your yard. Hardscaping also gives the impression of an elegant and expensive space, which is very attractive to both guests and potential buyers.
Focal Points Throughout The Outdoor Space. Focal points carefully placed are easy ways to highlight the most attractive areas of your landscaping, hide the not-so-much, create a visual path for viewers, and create proportionate scale, balance, and line. These are all aspects of design, and all work together to make the most impact out of your particular space. For example, if you have a smaller yard, you can use elevated flower beds in the background to create the illusion of more space or to compensate for any sloping issues. And pops of colorful flowers strategically placed around will draw the eye to the places you want to highlight. Landscaping lighting will also help to accomplish this, drawing the eye along a path where you specifically want people to gaze. Don't forget the placement of hardscaping features like pergolas, gazebos, and sitting areas to draw the eye, and create a very practical use of your yard.
There are many ways to increase the curb appeal of your home, and none of them have to be complicated, overly expensive, or boring. They can be very exciting, and if you don't intend to sell your home any time soon, they can help you to enjoy your home even more than before.
Hire a Professional Macomb County Landscaper
SiteScape is a Macomb County landscaping company that can help you accomplish your curb appeal goals and give you an excellently designed outdoor space.
For more information call: 586-739-5044