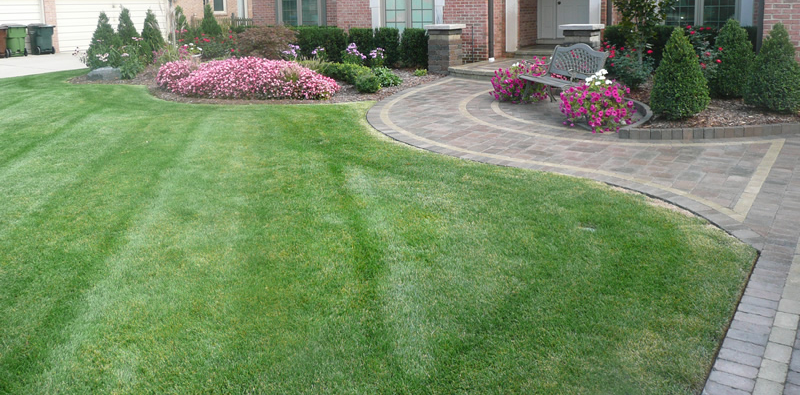 Macomb County Landscaper Explains How to Spruce Up Your Lawn
When was the last time you landscaped your lawn? If you haven't spent any time on it in the past couple of years, it's time to touch up! Landscaping has all kinds of benefits, from making your home look more presentable, increasing your curb appeal to helping certain plants grow better. With the help of a landscaping expert, there are things you can do now in the cooler months and things to look forward to next spring.
If you need a few ideas to start with, read on for some simple landscaping possibilities:
1. Color-Themed Plants
The easiest way to make your home pop with color is to use a certain theme or set of hues when picking out your plants. Do your best to stick with one or two color families, or pick colors that have some significance to you. A great tip when choosing the flowers for your outdoor space is to think way back to elementary school, to the color wheel. Choose hues that compliment each other by looking at colors that fall opposite one another to create the most visually interesting space.
2. Dedicated Walkway
With dedicated walkways, you will not only make it safer to walk from place to place, but you can also help to control the traffic throughout your property for guests as they visit. These pathways can be simple parts of the ground where plants have been parted away to more involved pathways with large, flat stones.
3. Stone Steps and Walls
For a more involved project, you can use stones to create little bedding walls for your garden and various plants throughout your property. This helps to separate it from the rest of your garden and keep it safe from getting accidentally stepped on. You can also use large stones to create steps in elevated areas of your yard.
4. Tree Archways
Set apart a section of your lawn, or dedicate an entry way leading to your home to being an elegant archway. By planting small, manageable trees you can cause the branches to arc over the path and great a very unique looking archway or tunnel for your home.
5. Natural Swimming Pool
With a little help from a landscaping expert, you can create a very natural looking pond or swimming pool right in your backyard. Try using flat stones along the rim of the pool to create a natural looking surface. You may even want to consider adding specific plants in the water as it can help to keep it clean without the need for harsh chemicals.
Macomb County Landscaper Explains How to Spruce Up Your Lawn
Looking to spruce up your lawn and update your landscaping? Try a few of these suggestions and see what works best for you and your home. There are many ways you can take a bland environment and turn it into something spectacular. Local landscaping teams have the expertise and history of working on many different kinds of projects and will help you determine the best design for your home.
Looking for a Macomb County Landscaper to help you with your next project? Contact Sitescape at: 586 – 739 – 5044