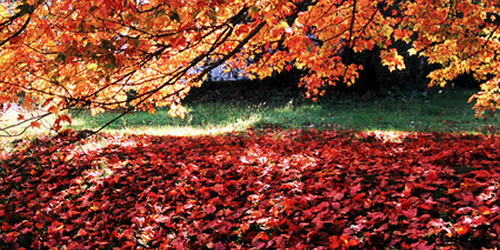 Fall Clean Up Services in Utica, Michigan
There's really no better area to see the changing colors of autumn than Michigan. However, along with this gorgeous scenery comes falling leaves and debris,and given the large quantity of mature trees in Michigan, a fall clean-up will be on your to-do list before the year is over.
Not only does fall landscape maintenance help keep your home looking top notch, investing in a fall clean-up will save you time for gardening next spring, and eliminating your lawn of debris prevents any mold or fungus from growing.
SiteScape, Inc. provides leaf removal along with fall clean-up services to be sure your lawn is free of all debris and fallen leaves. Our crew will clear away all debris from lawn and landscape areas, patios, decks, window wells, walkways, and any other places at your request.
Our fall clean-up services can generally be completed in a single visit; however with the wide variety of of trees in Michigan, more visits might be necessary. So if you find you don't have the time to do a fall clean-up, or would prefer to spend your weekend watching football enjoying the Autumn scenery let SiteScape tackle the job for you! We will make sure your residence looks its very best all year long.
Our Fall Clean-Up Services include
Cut back and Dead-Head of Perennials
Removing Annual Flowers
Removing leaves from lawn, beds, drive and sidewalks
Air sweep all Hard Surfaces upon completion and haul away all debris material
Inspection of plants for warning signs of disease or insects
Pruning of all shrubs and decorative trees if necessary
Add fresh mulch upon request
Gutter Cleaning upon request
Do you need Fall Landscaping Services in Oxford, Michigan?
SiteScape services Macomb and Oakland County. For more information call:586-739-5044
Fall Clean Up Services in Utica, Michigan
SiteScape Inc. is a Utica landscaping company that services both residential and commercial properties. SiteScape is booking fall appointments today. Call us today and we'll be happy to give you a quote and get you on our schedule. We look forward to meeting you.
For Fall Clean Up Services in Utica, Michigan, Call:586-739-5044