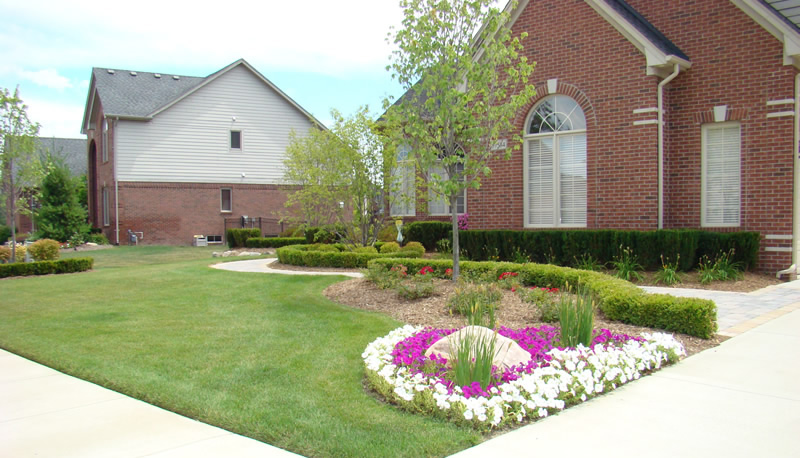 There are two types of Michigan homeowners. The first one is the type that loves to get out in the yard and do everything they can to make it as beautiful as possible. The second one is the type that's reluctant to step out to some yard work. They tell themselves, "I'll mow the lawn tomorrow." We at SiteScape Inc. want to help out both types as much as possible. During the summer, the heat can make even the most enthusiastic homeowner back out from yard duty. If the summer heat is getting to you and you're looking for some advice from a professional landscaping company, here are three ways we can help you out.
1. We'll Work in The Heat So You Won't Have To
We get it. Sometimes the glaring sun mixed with the humidity is tough to handle. For some, gardening in the sun can be a great way to burn calories. For others, it can feel like you're wasting the day away. Working in a bad mood makes various landscaping tasks seem too complicated. A professional landscaping company will be there when you need them. If you need a break from your workout but you're worried the lawn and garden aren't getting the care they need, call a Clinton Twp landscaper such as SiteScape. If you need the help of a landscaping company on a regular basis, that can be arranged too. Michigan can get pretty hot during the warmer months, so if you know it's best to keep yourself cool, contact a professional landscaper.
2. We'll Free Up Your Time And Do The Work Right
Do you have a clear vision of what your lawn could look like but just don't have the time? Don't be discouraged and give up that idea. If you set an appointment with a landscaping professional, you can discuss your vision and schedule a time for them to look at the yard. Afterward, they can let you know when they can help you and how soon it can be finished. Having your yard landscaped by experts is so much better than doing it on your own. That way, the results will live up to and even exceed what you had in mind.
3. We'll Help Plan a Project That Fits Your Budget
Summer activities usually take up our time and money. When you balance your checkbook after a fun event, you may have second guesses about trying out a new landscaping design. Instead of abandoning the project altogether, consider attending to one area of your yard at a time. Talk to a Clinton Twp landscaping professional about what you're thinking and budget accordingly. See what you can take care of now and what you should take care of later. They can even offer landscaping maintenance services so the work you just invested in won't go to waste.
Need Help From a Clinton Twp Landscaper?
We know that landscaping can be tough in the summer, but it isn't impossible when you have a reliable landscaping team on your side. Contact SiteScape Inc. today about your plans and problems and we'll do everything we can to help you.
SiteScape is located in Utica, Michigan and provides landscaping services in Clinton Twp and throughout Metro Detroit.