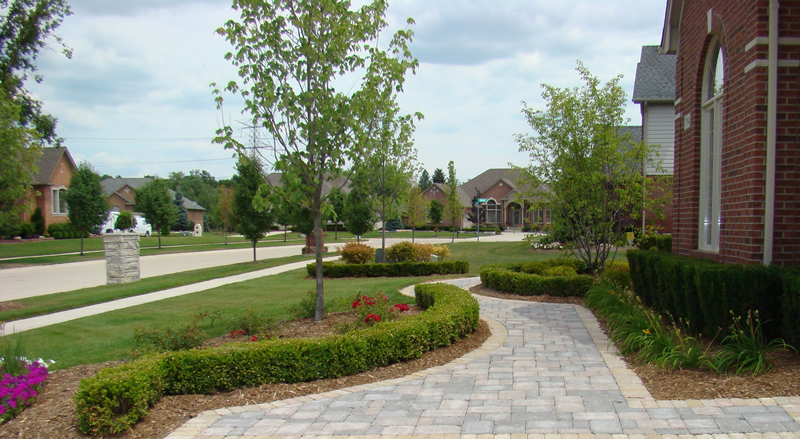 If you're considering reconstructing your driveway or you're building a new home, be sure to consider brick pavers for a practical and unique design. This method of driveway creation is quickly becoming more and more popular and provides a much more interesting result than concrete or other materials. You can boost the appearance of your home and increase its value with this one landscaping addition that used to be purely practical.
Keep reading for the 3 main benefits of choosing a brick paved driveway over concrete:
1. Brick Pavers are Longer Lasting
Brick is a material that is designed to be very strong and to withstand elements and heavy weight. Brick pavers are typically laid upon a screened bed of sand or gravel and when laid into place, each piece is locked in with a kiln sand that results in a rock solid surface. A large amount of weight is easily accommodated on a brick paved driveway because the screened-in bed underneath, along with the amount of individual brick pieces, allows for an even distribution of weight. Concrete tends to crack over time and isn't as able to hold weight as brick pavers are.
2. No More Water Damage
Because of the sand or gravel bed screened in underneath the brick pavers, any surface water is able to absorb down into the bed and will not pool on top. With concrete and tarmac driveways, water tends to sit on the surface and when it freezes, it can cause cracking and splitting in the driveway. If your driveway begins to crack in places, then you may be seeing a significant repair cost by having to reapply concrete to all or a large area of your driveway. You can save yourself money and inconvenience from having to repair your driveway and wait until it's dry to use by choosing a brick paved design.
3. Brick Pavers are Low Maintenance
The only maintenance required for brick pavers to last a long time and keep their strength is the removal of any moss growing on the surface. This can be done by simply applying a power washer or stiff broom to lift away any moss. You can then add kiln sand to the cracks in between the bricks using a soft broom to replace any sand that has been washed out and ensure the driveway maintains its solid structure. the lifting of bricks is a rare occurrence but if it does happen, you can fix this by taking out the lifting brick, adjust the sand/gravel base underneath and replace the brick in its place.
3 Reasons To Choose Brick Pavers Over Concrete
Not only is a brick paved driveway a practical decision for your home but it also provides a unique aesthetic that boosts the appearance and value of your home, and can be matched to suit your home's aesthetic.
For more information on brick pavers for your home, call Sitescape today at – 586-739-5044