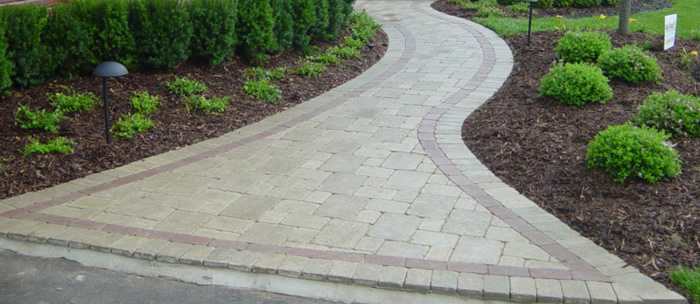 Brick Paving Designs for Oakland County Landscaping
Not only are they visually beautiful, but the art of brick paving is also very practical for any landscaped area. Brick paving can be designed in a number of different patterns and designs, allowing for a completely custom work-of-art in your yard.  One of our professional landscapers from Sitescape can schedule a time to meet with you to discuss your personal taste, as well as what design would function best in your yard. Not only will your new brick paved design be lovely, but also incredibly useful as a way to create walkways, steps, and retaining walls.
Here are a few of the most popular brick paving designs any one can incorporate into their yard:
1. Stretcher Bond Pavers
Stretcher bond paver patterns are one of the most popular among home owners. This design uses long, rectangular brick pieces that are laid out side by side in a landscape design. This design is popular for use on decks and walkways, because they are easy to install and stretch to accommodate any size of yard. This look provides a clean, minimalistic aesthetic with its simple lines and style. We can even arrange the stretcher bond pavers in a zig zag, or chevron pattern, creating a more visually interesting design. Even though this style of paver is simple, it can make a big impact on any landscaping.
2. Mismatched Designs
Using mixed designs is a more eclectic look than the simple stretcher bond paver pattern. Home owners can collaborate with our designers to customize their brick paving design, with the use of different shapes, sizes, and colors. This design look can provide something that is truly unique, and can only be seen at your home. The random design arrangement of different pavers creates a fun, whimsical look that can suit any home style, whether traditional or modern. Modern homes in particular may benefit from a mismatched look, because it can make simple structures more lively and interesting.
3. Basket Weave Paver Patterns
Older homes may appeal more to basket weave brick paving patterns, as it is more traditional. This design pattern combines the use of two different paver colors, laid out opposite from each other in a grid like pattern. This will create the illusion that some bricks run under, and others run over bricks. While something simple can appear to be too modern for an older home, a basket weave pattern combines the look of tradition with visual interest. Designers and landscapers in the early 20th century made this particular pattern popular among home owners, and remains one of the most classic looks to date.
Brick Paving Designs for Oakland County Landscaping
These are only three of the most popular, widely used brick paver patterns. There are endless ways you can layout, shape, and combine pavers to create a look that is completely custom to your style.
The possibilities are virtually endless for your Oakland County Landscaping, and with help from our professional landscape team at Sitescape, you can decide upon a brick paving design that suits your lifestyle perfectly. Contact Sitescape today at: 586-739-5044