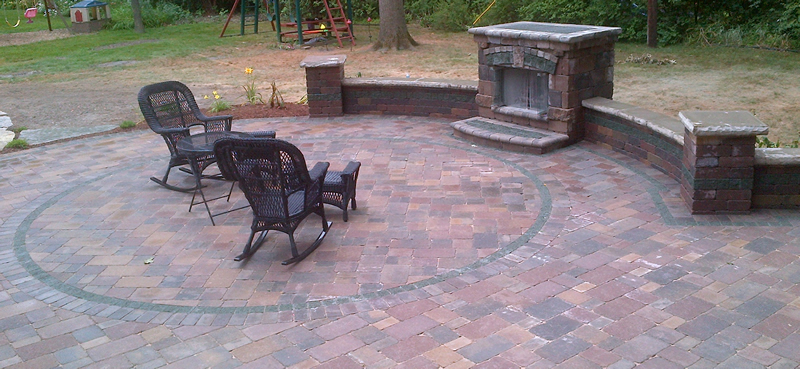 Extend Your Living Space Outdoors With a Brick Paver Patio
There are many ways to upgrade and increase the value of your home that provide practical use, but one of the most enjoyable ways to accomplish this is through the addition of a brick paver patio. You will increase your livable space and boost the value of your home as well as the quality of your life with the many memories you can look forward to creating. A brick paver patio is a less-expensive option for home owners that want to spend more time outdoors relaxing with loved ones.
Here are some of the benefits, both practical and luxurious, of adding a brick paver patio to your backyard:
Brick Paver Patios Provide Functional Space
With an outdoor patio, you will now be able to entertain guests outside, serve food and offer comfortable seating to enjoy the warm weather and make the most out of summer. A brick paver patio offers shade from the sun without needing walls that block out the fresh air and view to your garden. Another of the most practical benefits of a patio is the added value it gives your home by increasing your square footage and improving your back yard space. Adding a brick paver patio to your backyard is an investment you can enjoy right away with your entire family but will also pay off in the end.
Brick Pavers are Affordable, Durable and Easy to Maintain
Home owners can appreciate a brick paver's easy to clean, maintain and affordable material. Not only reasonably priced, they last a long time and retain their original appearance with minimal care and treatment. A professional landscaping company will lay your brick paver patio down with a screened-in sand or gravel bed that is reinforced with kiln sand for a rock solid finish. Once cured, the brick pavers are laid on top and are filled in with the kiln sand for a durable result. Because of their strong foundation, brick pavers can withstand a large amount of weight without cracking or splitting and will not be compromised because of excessive water fall.
Brick Pavers Come in a Variety of Colors, Textures and Sizes
Unlike cement that is one-size fits all, brick pavers come in multiple colors, sizes and textures for a completely customized end result. You can match the aesthetic of your home as well as any pre-existing hardscaping, and you can combine different colors and sizes to form a structure that is one-of-a-kind. A professional landscaping company can advise you on which brick pavers to choose from, depending on your personal style, and can come up with a design that truly speaks to you and your family.
Choose a Brick Paver Patio for Your Home in Oakland County
The next time you begin to wonder how you can increase the value of your Oakland County home and give your family something they'll love, consider adding a brick paver patio for a low maintenance, budget-friendly, and beautiful design you can enjoy for years to come.
Sitescape provides landscape and hardscape services in Oakland County, Macomb County, and throughout Southeast Michigan.  Call Sitescape today to get a quote on a brick paver patio or any type of brick paver project you are considering for your home.
Call Today: 586-739-5044