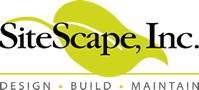 Landscape Project – Terms & Conditions
Only items listed on the proposal are included in the price. Additional work must be written on a change order and approved in writing by the responsible party. All work on the proposal must be included to ensure these prices. All landscape work and plant material are guaranteed for one (1) full year from date of installation except for Annuals, Perennials, Transplants, Sod and Seeding. All brick work is guaranteed for two (2) full years from date of installation. Brick work does not include brick sealing. All warranty work is good for one (1) replacement only. No warranty work will be performed unless the project balance is paid in full. Watering and maintenance of lawns and plant materials are the responsibility of the owner. SiteScape, Inc. is not responsible for damage caused to invisible dog fences, irrigation, low voltage lighting or private utility lines. SiteScape, Inc. is not responsible for unforeseen site conditions, permits, fees or any additional costs not known, when this proposal was created. Insurance claim work must be paid in full by the homeowner upon completion of the project. Price above does not include any engineering or survey work.
Payment Terms:
A deposit of 1/3 is due at signing and the balance is due on the day of project completion.
Option 1: Personal check or cash
Option 2: Major Credit Card (Visa, MC, AMEX, Discover)
Credit and Debit Cards can be processed online at: www.sitescapeinc.com
Lawn Maintenance – Terms & Conditions
Sitescape, Inc. is not responsible for damage to underground wiring including private utility lines, electric dog fences, underground plumbing or damage to sprinkler heads due to malfunction or improper installation. Pet waste must be picked up before your scheduled mowing day. If you wish to skip a mowing, a 48-hour notice is required. For best results, sprinklers must not run on the scheduled mowing day. Weather may be a factor on your scheduled day of service. Customers will be billed at the beginning of each month, May 1st – November 1st, payment is due upon receipt. A 10% late fee will be charged on the 15th day.
Return Policy
All Sales Are Final
Delivery/Shipping Policy
SiteScape, Inc. is strictly a service-based business. SiteScape, Inc. does not ship products.
Typographical Errors
SiteScape, Inc. attempts to keep the information on this site as current and error free as possible. We are not bound by typographical errors resulting in inaccuracies with regard to prices, product specifications or availability.
Privacy Policy
SiteScape, Inc. and its website respect the confidentiality of data relating to all customers and visitors to the site. Individual customer and visitor information is not collected, shared, or distributed. Please note that aggregate data are collected and analyzed strictly for the purposes of identifying statistical information concerning site traffic. In areas of the site where users provide personal information for making payments, this personal information may be forwarded to third parties (Debit/Credit Card Processor) in order to fulfill these requests. All information collected from customers is within PCI compliance. Your information will not be sold or shared to any outside parties for any reason.